AIC at 20: Leading successful derogation for winter bean seed to secure UK supply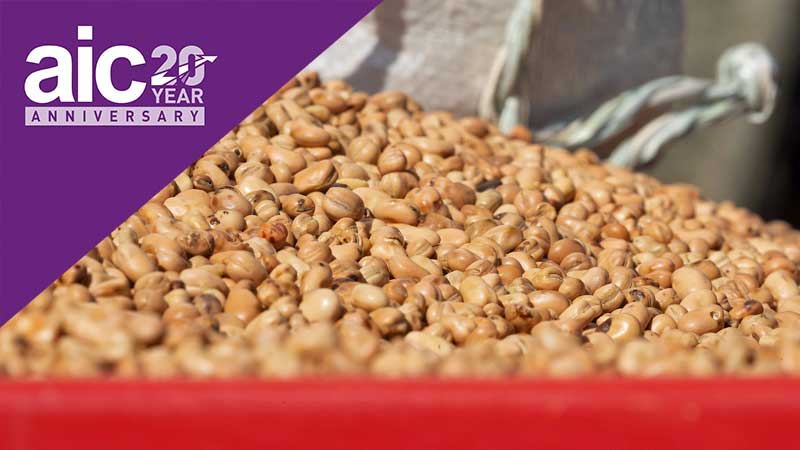 As AIC marks 20 years as the UK agri-supply industry's leading trade association, we're looking back at some of its greatest achievements since it was founded in 2003.
Each week throughout 2023, we'll explore a major achievement where AIC represented its Member businesses, promoted the benefits of modern commercial agriculture in the UK, and supported collaboration throughout the food chain.
This week we review how AIC helped secure the supply of winter bean seed to UK farms by successfully applying for a derogation to mitigate supply disruption.
Lower germination
The exceptionally hot and dry conditions throughout the 2022 summer had a negative impact on germination rates, risking a depleted quantity of winter bean seed available for the 2022 drilling campaign.
Working on behalf of Britain's certified seed sector, the AIC liaised with the industry to gather the evidence and then applied to the Department for Environment, Food and Rural Affairs (Defra) and the devolved governments for a temporary derogation for England, Scotland and Wales.
The derogation was subsequently granted by the Government, allowing for a limited quantity of winter bean seed to be sold with a germination rate of no less than 70%.
The result gave much-needed certainty for British farmers wishing to grow winter beans as a valuable break crop and mitigated the potential for significant disruption to bean seed supply.
Find out more about the certified seed sector by watching the video below.
Make sure you're following AIC on X and LinkedIn for regular updates.
Visit the AIC at 20 webpage for more content like this.