The purpose of the TACR is to aid current or potential participants of AIC's Trade Assurance schemes in sourcing valid, correct and useful advice and support by providing of a list of registered consultants and advisors.*
To be added to the list of registered consultants we encourage you to apply using the TACR application form:
For reference, the various stages of the application process are listed below: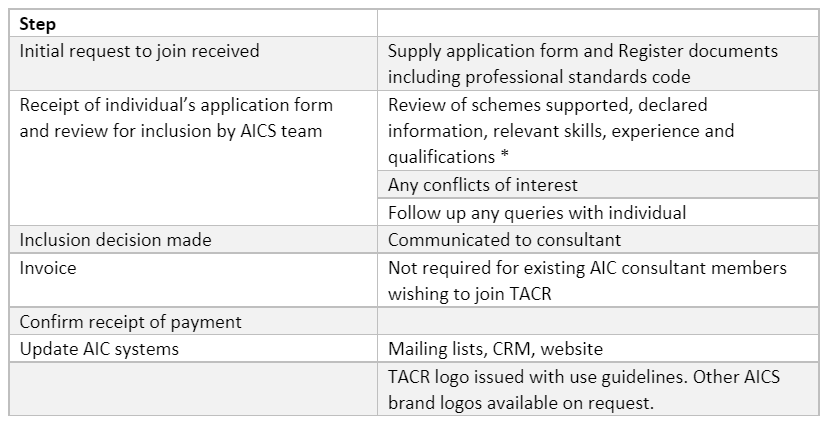 Inclusion on the TACR will be reviewed annually and members requested to update AICS on any changes in their declared information or any additional information such as feedback from participants using the consultant services in the previous year. AICS will review the use of TACR and TA scheme logos on consultants' websites to ensure the AICS Brand guidelines are followed.
* Consultants listed on the TACR agree to abide by a code of professional standards. AICS does not set specific criteria for addition to the register apart from declaration of relevant knowledge and experience of the schemes supported by each consultant. The Consultants are expected to maintain up-to date knowledge of the schemes and the relevant industries and AICS will support this in provision of i-learning, access to AIC website and information mailings as per TA scheme participants. TACR adds an industry professional standing but is not an approval or accreditation scheme.
Registered consultants will be issued with a membership card, renewable annually.