A means of demonstrating competence in animal feeding management is an important contribution towards providing the confidence that the industry has the ability to balance production and environmental goals.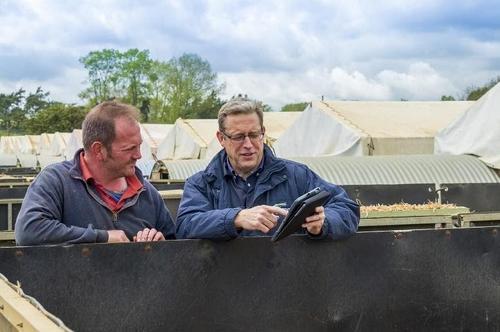 New to FAR – Registration and Steps to Full Membership
Complete the FAR application form and send this to Carolynn Palasiuk*

*Membership costs can be found on the FAR registration form and different fees will apply if you are an AIC member or a non-AIC member. If a company is applying for multiple feed advisers to join the scheme, they need to contact Carolynn Palasiuk for an excel spreadsheet to complete for all advisers to be registered.

The applications are reviewed to ensure all applicants meet the entry criteria and once approved advisers will be registered as a 'Development ' member and will be issued with a membership card:

Development members are required to complete a minimum of 12 months nutritional advisory work under the supervision of their manager or full member of the Feed Adviser Register.
Complete the Modules 1 to 4 Core Training Modules and Competency tests for each area of expertise i.e ruminant and monogastric .

Once successfully completed all of the above feed advisers can now be categorised as a Full FAR Member and will receive a Full status Membership card.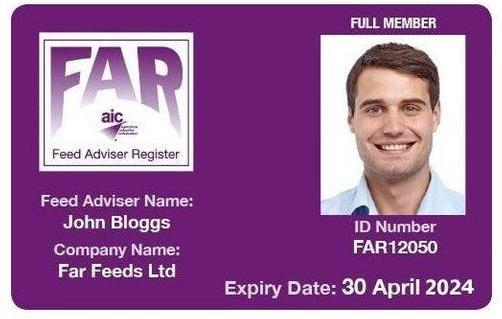 Advisers must agree to abide by the FAR Professional Code of Conduct.
Feed advisers will remain as Development members until they have successfully completed the 4 Core Modules for all areas of specialism and have at least 12 months practical experience delivering nutritional advice.
To maintain Full membership status each year advisers will be required to complete continuous Professional Development (CPD) which is an online training package specifically around a certain topic available to all full members.
For 2021-22 the training considers sustainability and how it relates to feed and livestock, from responsible sourcing to the sustainability of UK livestock systems. In 2023, the training will focus on the efficiency of nutrient use within livestock systems.