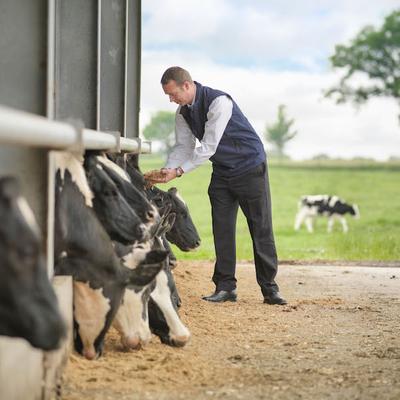 Since the launch of the Feed Adviser Register in 2013, membership has gone from strength to strength with over 1000 feed advisers from all over the UK and Ireland have joined. The register was set up by AIC and the feed sector in response to the Governments' commitment along with industry and customer demands to reduce emissions from farmed livestock.
Access to professional advice is becoming more important. Government is looking to address the environmental aspects in farming and understanding at farm level is key. Feed advisers going onto farm play a vital role in sharing messages with farmers who work on livestock farms. Providing farmers with the best possible advice, working towards optimal nutrition intake and signposting to Government documents on environmental matters is paramount.
Over the years the knowledge required has developed and expanded to optimise the quality, efficiency and profitability of production. The blend of these vital components is at the heart of correct feeding advice. Animal production on UK farms is an essential part of the food chain that ensures the population is fed with safe, wholesome, high quality produce.
The science of animal nutrition is further complicated by environmental considerations, especially the challenge of climate change and Greenhouse Gas (GHG) emissions. There is clear government policy aimed at mitigating the effects of animal production insofar as it affects the climate, and livestock farmers and their advisers will need to make a concerted effort to continue to improve overall farm efficiencies – synonymous with reducing GHGs but also protecting the environment overall. Industry bodies are united in their serious commitment to improve farm practices through industry-led activities, such as the GHG Action Plan, the Professional Nutrient Management campaign (Tried & Tested) and the Campaign for the Farmed Environment, of which Continual Professional Development (CPD) activity is a vital part.
A means of demonstrating competence in animal feeding management is an important contribution towards providing the confidence that the industry has the ability to balance production and environmental goals.